// = do_shortcode ('[in-content-square]')?>
Caroline bracken
Amy Wack, poetry editor, retires from Seren after thirty years, she will be sorely missed but what a legacy she leaves, no less than three books to review here. First, Kim Moore's second collection, "All the Men I Never Married", which is both devastating and terribly well written. Poems are numbered instead of titled, but are listed on the content page by their first lines, which reads like a poem in itself.
The choice not to give titles to the poems is interesting and shows a degree of confidence and faith in the poems to speak for themselves. It also serves as a kind of depersonalization that reflects the experiences of the women the poems describe and allows for flow from one poem to another.
A prologue poem "We come under cover of darkness" introduces the themes of the collection: conditioning girls, subjugation and silence of women and how we no longer take it. This poem is a tour de force, a war cry:
'There will be riots, / we take away everything we know about the silence / returning from the forests and towers.'
Written in italics, this poem reads like a spoken monologue, just like poem number 6, "That a man approached you in a nightclub." Each line of this poem begins with "It", a repeat that illustrates the onslaught of violence against women, this is a perfect example of form reflecting content.

Joy
Moore's full range of poetic talents is on display here, she experiments, uses white space on the page to the fullest, there are prose poems and an erasure poem. There is joy in the darkness as in the poem 34 "I tie the microphone to the bell of my trumpet":
'at the Haymarket Theater he taught me to watch the conductor
to mark the games with benchmarks run to the bar and save his place
noted if in doubt, detonate and no uncertain trumpet
that you could do something that you loved and experience '
If this collection of poetry were a concert it would be a virtuoso performance deserving a standing ovation, bravo Kim Moore.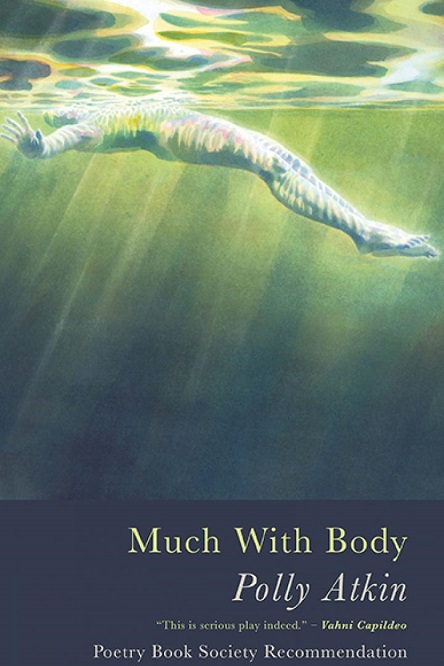 Polly Atkin's second collection, "Much With Body", is a piece to spend time with. What makes it so brilliant are the layers of the poems that come to light over the course of multiple readings. For example, "Hunting the Stag" can be read as a poem about nature, human interference in the ecosystem, limitations, and craving. It also reads like an ars poetica:
"He is higher than you can walk today, or deeper.
You can't make it come to you.
Not the big deer with his rustling mane not even
the little deer with its sapling antlers. '
Atkin is a poet who has a perfect command of language and line, her poems command the page so the reader knows they are in good hands. No more than in "Dark Hedges / Barbed Wire":
"Dark hedges ooze, spikes of rust weep, twists of rust grow
through their skin like fences are supposed to. Dark hedges
cry sticky black tears, manifest painful red letters on their beehive skin '
There are touches of humor throughout the collection which is rare in poetry and difficult to do well but Atkin does it so well, as in 'Notes from a transect': 'There are people against the beaver . They never specify which beaver. It takes a great poet to go from writing an experimental poem "Rain" which is part of a sequence of poems found in Dorothy Wordsworth's journals to a poem titled "Your ex-first love is a guru of Internet, and that's what it says. "Fabulous. This collection is a keeper, I cannot recommend it highly enough.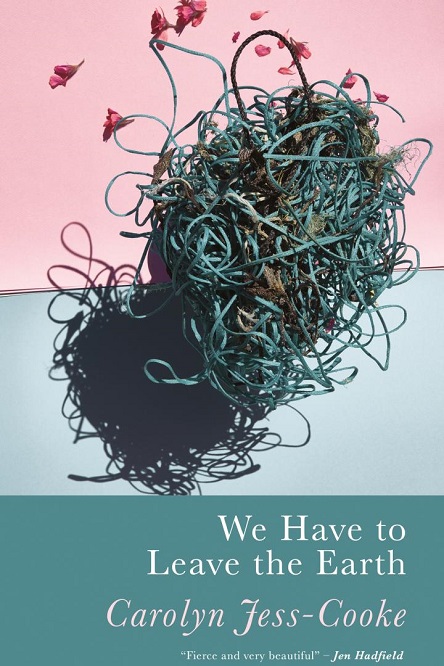 'We Have to Leave the Earth' is Carolyn Jess-Cooke's third collection and her experience shows. She uses white space on the page like no one else, especially in the opening sequence "Songs for the Arctic". There is not a word lost in this section and everyone is entitled to a landing spot with a space around it, echoing the landscape it describes, as in "Hammerfest Storm":
'Sea working his tools
white hooks
quivering wind
to a skin the vessel akilter '
The second section gives a more personal note with poems about ancestors, parents, children and two of the best poems I have ever read on depression, "Sagittarius A *" and "Birdsong for a Breakdown": "Because that I had swam a thousand miles in the tar / uphill, and the tar crept into my ears and ate the memory // of the sound '.
'The House of Rest' is a sequence of poems based on the life of Josephine Butler, a feminist activist from the 19e century. These are deeply touching poems that evoke the appalling conditions of women at the time:
'The matron pushes me into one of the dilapidated huts
outside the workshop,
her hands shake as she turns the key in the lock. (What he picks from Oakum)
and "The quiet girls":
"Children and women are forcibly subjected
on a brutal exam – tied up, gagged, feet
in stirrups, metal speculum – in the name of
fight against venereal diseases. Many have died;
Butler was instrumental in overturning the Communicable Diseases Act of 1869 which permitted such barbaric examinations, and Carolyn Jess-Cooke's poems bring Butler back to the light to which she belongs.
Poetry brochures serve as an introduction to the work of an emerging poet, a taste of what is to come. Laura Wainwright's 'Air and Armor', published by Green Bottle Press, is a booklet of twenty-two poems supported by Literature Wales. They are beautifully weighed and crafted poems about place, the natural world, relationships, and motherhood. He is a poet in love with language and his music:
'I'll grant every bone to winter
forked steel hits the year of hardening
vibrations of migrating wings
sound note of a frost star '(In the winter)
and:
'Trying to settle,
I am disturbed by the dust,
melted snow
on a salty road. (Night vision)
Wainwright is a seriously talented poet who has found her unique voice, I can't wait to hear what she says next.