Dhammika talks about the changing role of the civil servant
---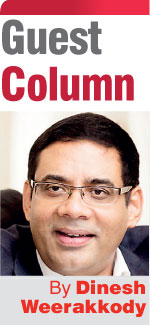 Providers of higher education, skills development and technical training are key to creating productive employment opportunities for our young people. They mainly prepare young people for work in the formal and informal sector and therefore play an important role in helping to build a pool of quality talent for the country. The better the training and skill levels, the higher the income and economic returns and the better the quality of livelihoods.
Education and skill acquisition in Sri Lanka, which in the early 1960s when Dhammika Perera was born, was much better than countries like Singapore, Malaysia, Hong Kong and South Korea, over the past 20 years, has fallen far behind these countries, undermining the country's growth prospects. Sri Lanka therefore faces several challenges that we must address if we are to achieve and sustain a growth rate of over 5%, post-COVID-19. These challenges are well known to our policy makers.
Dhammika Perera
Over the past few years, I have worked with businessman Dhamikka Perera to plan and execute several policy interventions aimed at strengthening TEVET and the public sectors. He recognized early in his career that human capital had to be the strategic driver of inclusive economic growth to help Sri Lanka become and remain competitive as a middle-income country. His commitment to sharing his knowledge and expertise gained in the public and private sectors was clearly evident with the many HR interventions he organized with NHRDC to improve public sector efficiency.
So it was no surprise when he started the Dhammika and Priscilla Foundation – (DP) Education. In doing so, he followed the lead of several international foundations working to help thousands of young people lead productive lives and give them the chance to lift themselves out of poverty. DP Education will certainly help those who have limited access to limited resources – gain access to the educational opportunities and knowledge they need to succeed in school, in vocational education and in their university life. Improving the overall quality of education is a difficult task in Sri Lanka. Limited progress has been made despite numerous reports to several governments.
Importance of Diploma Program education
Online education launched by DP Education according to the founder is a free online education portal. DP Education is a one-of-a-kind platform where the entire curriculum is available for students to study online for free. Given Sri Lanka's challenges in consistently delivering a high standard of teaching quality and content, the platform will certainly help bridge the gap between delivery and consistency. Today the FT reported that the first and only free online software engineering course has been introduced by a joint initiative of the University of Moratuwa, DP Education and Computer Society of Sri Lanka. The Computer Science course is for GCE O/L and A/L students and all undergraduate Computer Science students. This latest initiative is timely and responds to the need to strengthen and grow Sri Lanka's IT talent pool.
To come up
Emerging countries like Sri Lanka looking to aggressively develop their export bases will need to prepare large numbers of people to work in the industry. However, to maximize the value of investments, we need to know our current talent shortages, future skills shortages, and understand the impact of the infusion of digital and social media on commerce and business. Therefore, the investments we make in education now will contribute significantly to our future success. A few more interventions and collaborations will definitely help Sri Lanka accelerate educational achievement.
In the final analysis, Dhammika Perera has clearly demonstrated his philosophy that it is better to light a candle than to curse the darkness. The meaning of this famous Chinese proverb is that it is better to do something about a problem than just complain about it. His intervention is a shining example for Sri Lankan companies, which are often accused of being only in search of profit and selfishness and the bad practices that some sometimes show, which means that the whole of the private sector is characterized as purely profit-oriented.