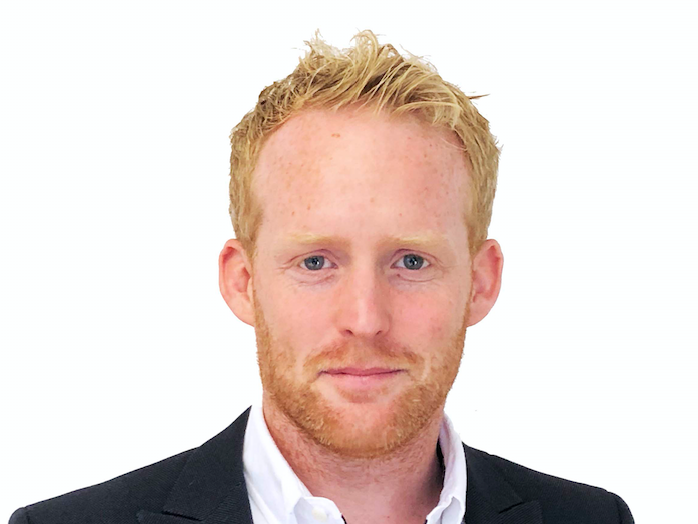 Marine Jet Power celebrates 35 years of on-board service
[Sponsored Content] Marine Jet Power (MJP) recently appointed Adam Mills as the new Regional Sales Manager for the Americas as the company celebrates 35 years of service to the marine industry. As a full-service propulsion solutions provider, MJP provides customer support from initial design and construction to delivery and customized alternatives. The company has worked on a diverse range of vessels, ranging from government, landing craft and work boats, to high speed passenger ships and luxury yachts.
With nearly 15 years of experience in the maritime industry, Mills began his career as a Naval Architect after graduating from John Moores University in Liverpool, England, where he obtained a BA with Honors in mechanical / marine engineering and naval architecture. He has been at MJP for nine years.
In recognition of his birthday and as a Gold Sponsor of Marine Log's upcoming FERRIES 2021 conference, we spoke to Mills about the work the company has done over the years and what they will soon be putting into place. line.
Marine Log (ML): MJP is now in its 35th year of operation. What do you want our maritime audience to know the most about the company?
Adam Mills (AM): It's actually an interesting story. The very first set of waterjet ships delivered by MJP was in 1987 on the passenger ferry M / S Cinderella in Sweden. And today, almost 35 years later, those original water jets still operate with over 60,000 hours of operation. Although the ship has undergone some improvements over the years, she still operates a seasonal daily schedule in the Stockholm archipelago. It's a real testament to how MJP builds water jets. In 1986, MJP set out to build the best waterjet on the market, today that goal remains which is why we manufacture from duplex stainless steel which is twice as strong as 316 stainless steel. , which makes it a much more reliable and durable product. This is a huge advantage, especially for ferry operators where downtime is the most feared.
ML: What types of vessels does MJP provide its services to and what is the most common type of vessel you receive orders for?
A M: MJP supplies water jets to passenger ships, commercial work boats, high-end yachts as well as government and military vessels around the world. We take great pride in being versatile and finding the right fit for any assignment. But, due to the shallow draft, high speed, and highly efficient nature of water jets, we are very successful in military and government applications. MJP's unique features include reliability, durability, ease of installation and maintenance and best of all, we have the most efficient waterjet on the market today, all backed by a warranty. of 5 years, the best in the industry.
And many of these key benefits also meet the needs of ferry operators. Whether you are working on a tight schedule, want to reduce annual fuel consumption, or want to make sure the vessel stays in operation 24/7; efficiency, durability and reliability become paramount.
ML: How do you work with clients to find the specific propulsion needs of their vessels?
A M: At MJP we are a highly technical organization where the propulsion solution is based on what is best for that vessel and its mission. Our passion for the marine industry goes beyond this one sale, for MJP it is about providing our customers with the best solution, even if the best solution is not water jets in some cases. . Building a solid and reliable relationship with our customers based on honest technical support, our experience gives us a solid foundation and a reputation for years and projects to come.
Understand the ship's mission, whether it's high speed performance, fuel economy, high pulling force, or very specific ship maneuvers; we do a detailed analysis of every project we engage in to make sure our client gets the best. With our in-house CFD team and technical sales engineers, we can accurately predict performance, efficiency, percent growth tolerances on displacement, and can fully support designers and builders with a seamless installation.
ML: Tell us about your work on ferries and passenger ships. Have you been faced with any unique challenges in this arena?
MJP has supplied water jets to the global passenger ship market for decades. We have just given the example of M / S Cinderella above, but over the past 35 years, MJP has installed water jets on more than 200 passenger ships. And with each project, we are always learning and evolving to meet market demands.
As the industry strives to reduce carbon emissions, more and more of our customers want a hybrid or fully electric solution. MJP is working on several projects that meet this requirement and we look forward to solving the challenges ahead in this segment as more and more ships go electric.
We have also developed our own dynamic positioning system which communicates seamlessly with our waterjet control system and other external interfaces such as GPS to provide our customers with an enhanced on-board experience to enable the operator to take a break at the wheel while strolling or long straights. .
ML: What kinds of customization options do you offer customers?
AM: We offer personalized contributions for each CSU and DRB installation. The intake is meticulously designed using our in-house CFD capability to optimize the efficiency of the vessel's intended speed and mission, but also to accommodate specific bulkheads and custom shaft angles. MJP offers the highest level of customization for projects that fall outside the norm.
But, a big part of what ferry operators want is customization in the controls. The user interface. This is why we have developed a fully customizable and modular control system that interfaces with external systems such as autopilots, interceptors, dynamic positioning, etc. The customer is free to build the system as they wish.
ML: In addition to propulsion systems, MJP provides control systems for ships. Can you tell us more about this maritime service that you offer?
A M: MJP's JetMaster electronic control system is available in a variety of configurations to meet operator needs. The operator can choose from a number of control head options including a combiner / flywheel assembly or choose MJP's new vector control system and joystick. The JetMaster system is scalable depending on the mission, we can offer redundancy and backups if full class approval is required. We can also interface with other external systems such as autopilot, interceptors, dynamic positioning, remote unmanned systems, etc. In addition, via a secure and encrypted connection, we can remotely connect to each electronic control system to perform start-up / calibration, troubleshooting and diagnostics. This is a huge benefit for operators who cannot afford downtime.
ML: Finally, what's the best advice you could give to a ship owner or operator who is considering building a new ship?
A M: First, I would recommend considering the ship's mission and intended use. The way the operator wants to operate the boat has to prioritize. With this information, MJP can fully assist the shipowner to come up with the best options to meet their needs. I would say, "Just pick up the phone and call me!" I am a naval architect passionate about boats. For me, it's not just about water jets, it's about providing technical support for the whole boat whether it's advice on dynamic stability, optimizing the center of gravity to improve acceleration and seakeeping or transmission support and engine selection. I'm here to help! "
Another key metric that is often overlooked at the construction stage is the cost of life. Propellers can sometimes seem like a cheaper solution, but that's often not the case when you consider the total cost of ownership. Engines experience a much harder life coupled with propellers. Water jets do not overload motors like propellers do. As a result, engine overhauls and refills throughout the life of the vessel are significantly less, not to mention the low maintenance and fewer spares needed to maintain an MJP waterjet.
And specifically for passenger ships, I would highly recommend the maneuverability aspect of the ship. Our water jets are designed in such a way as to provide fast and responsive steering and reverse to allow the operator to rotate the vessel 360 degrees over their own boat length which is a huge benefit for vessels at passengers operating daily routes in narrow ports.